Lange Wartezeit bis zur 3. Staffel von Game of Thrones

Ein Artikel von
andi

1 Kommentar
Warning
: SimpleXMLElement::__construct(): Entity: line 1: parser error : Space required after the Public Identifier in
/www/htdocs/w0101159/retracked.net/wp-content/plugins/amazonsimpleadmin/lib/Asa/Service/Amazon/Request/Abstract.php
on line
66
Warning
: SimpleXMLElement::__construct(): <!DOCTYPE HTML PUBLIC "-//IETF//DTD HTML 2.0//EN"> in
/www/htdocs/w0101159/retracked.net/wp-content/plugins/amazonsimpleadmin/lib/Asa/Service/Amazon/Request/Abstract.php
on line
66
Warning
: SimpleXMLElement::__construct(): ^ in
/www/htdocs/w0101159/retracked.net/wp-content/plugins/amazonsimpleadmin/lib/Asa/Service/Amazon/Request/Abstract.php
on line
66
Warning
: SimpleXMLElement::__construct(): Entity: line 1: parser error : SystemLiteral " or ' expected in
/www/htdocs/w0101159/retracked.net/wp-content/plugins/amazonsimpleadmin/lib/Asa/Service/Amazon/Request/Abstract.php
on line
66
Warning
: SimpleXMLElement::__construct(): <!DOCTYPE HTML PUBLIC "-//IETF//DTD HTML 2.0//EN"> in
/www/htdocs/w0101159/retracked.net/wp-content/plugins/amazonsimpleadmin/lib/Asa/Service/Amazon/Request/Abstract.php
on line
66
Warning
: SimpleXMLElement::__construct(): ^ in
/www/htdocs/w0101159/retracked.net/wp-content/plugins/amazonsimpleadmin/lib/Asa/Service/Amazon/Request/Abstract.php
on line
66
Warning
: SimpleXMLElement::__construct(): Entity: line 1: parser error : SYSTEM or PUBLIC, the URI is missing in
/www/htdocs/w0101159/retracked.net/wp-content/plugins/amazonsimpleadmin/lib/Asa/Service/Amazon/Request/Abstract.php
on line
66
Warning
: SimpleXMLElement::__construct(): <!DOCTYPE HTML PUBLIC "-//IETF//DTD HTML 2.0//EN"> in
/www/htdocs/w0101159/retracked.net/wp-content/plugins/amazonsimpleadmin/lib/Asa/Service/Amazon/Request/Abstract.php
on line
66
Warning
: SimpleXMLElement::__construct(): ^ in
/www/htdocs/w0101159/retracked.net/wp-content/plugins/amazonsimpleadmin/lib/Asa/Service/Amazon/Request/Abstract.php
on line
66
Warning
: SimpleXMLElement::__construct(): Entity: line 1: parser error : Space required after the Public Identifier in
/www/htdocs/w0101159/retracked.net/wp-content/plugins/amazonsimpleadmin/lib/Asa/Service/Amazon/Request/Abstract.php
on line
66
Warning
: SimpleXMLElement::__construct(): <!DOCTYPE HTML PUBLIC "-//IETF//DTD HTML 2.0//EN"> in
/www/htdocs/w0101159/retracked.net/wp-content/plugins/amazonsimpleadmin/lib/Asa/Service/Amazon/Request/Abstract.php
on line
66
Warning
: SimpleXMLElement::__construct(): ^ in
/www/htdocs/w0101159/retracked.net/wp-content/plugins/amazonsimpleadmin/lib/Asa/Service/Amazon/Request/Abstract.php
on line
66
Warning
: SimpleXMLElement::__construct(): Entity: line 1: parser error : SystemLiteral " or ' expected in
/www/htdocs/w0101159/retracked.net/wp-content/plugins/amazonsimpleadmin/lib/Asa/Service/Amazon/Request/Abstract.php
on line
66
Warning
: SimpleXMLElement::__construct(): <!DOCTYPE HTML PUBLIC "-//IETF//DTD HTML 2.0//EN"> in
/www/htdocs/w0101159/retracked.net/wp-content/plugins/amazonsimpleadmin/lib/Asa/Service/Amazon/Request/Abstract.php
on line
66
Warning
: SimpleXMLElement::__construct(): ^ in
/www/htdocs/w0101159/retracked.net/wp-content/plugins/amazonsimpleadmin/lib/Asa/Service/Amazon/Request/Abstract.php
on line
66
Warning
: SimpleXMLElement::__construct(): Entity: line 1: parser error : SYSTEM or PUBLIC, the URI is missing in
/www/htdocs/w0101159/retracked.net/wp-content/plugins/amazonsimpleadmin/lib/Asa/Service/Amazon/Request/Abstract.php
on line
66
Warning
: SimpleXMLElement::__construct(): <!DOCTYPE HTML PUBLIC "-//IETF//DTD HTML 2.0//EN"> in
/www/htdocs/w0101159/retracked.net/wp-content/plugins/amazonsimpleadmin/lib/Asa/Service/Amazon/Request/Abstract.php
on line
66
Warning
: SimpleXMLElement::__construct(): ^ in
/www/htdocs/w0101159/retracked.net/wp-content/plugins/amazonsimpleadmin/lib/Asa/Service/Amazon/Request/Abstract.php
on line
66
Warning
: SimpleXMLElement::__construct(): Entity: line 1: parser error : Space required after the Public Identifier in
/www/htdocs/w0101159/retracked.net/wp-content/plugins/amazonsimpleadmin/lib/Asa/Service/Amazon/Request/Abstract.php
on line
66
Warning
: SimpleXMLElement::__construct(): <!DOCTYPE HTML PUBLIC "-//IETF//DTD HTML 2.0//EN"> in
/www/htdocs/w0101159/retracked.net/wp-content/plugins/amazonsimpleadmin/lib/Asa/Service/Amazon/Request/Abstract.php
on line
66
Warning
: SimpleXMLElement::__construct(): ^ in
/www/htdocs/w0101159/retracked.net/wp-content/plugins/amazonsimpleadmin/lib/Asa/Service/Amazon/Request/Abstract.php
on line
66
Warning
: SimpleXMLElement::__construct(): Entity: line 1: parser error : SystemLiteral " or ' expected in
/www/htdocs/w0101159/retracked.net/wp-content/plugins/amazonsimpleadmin/lib/Asa/Service/Amazon/Request/Abstract.php
on line
66
Warning
: SimpleXMLElement::__construct(): <!DOCTYPE HTML PUBLIC "-//IETF//DTD HTML 2.0//EN"> in
/www/htdocs/w0101159/retracked.net/wp-content/plugins/amazonsimpleadmin/lib/Asa/Service/Amazon/Request/Abstract.php
on line
66
Warning
: SimpleXMLElement::__construct(): ^ in
/www/htdocs/w0101159/retracked.net/wp-content/plugins/amazonsimpleadmin/lib/Asa/Service/Amazon/Request/Abstract.php
on line
66
Warning
: SimpleXMLElement::__construct(): Entity: line 1: parser error : SYSTEM or PUBLIC, the URI is missing in
/www/htdocs/w0101159/retracked.net/wp-content/plugins/amazonsimpleadmin/lib/Asa/Service/Amazon/Request/Abstract.php
on line
66
Warning
: SimpleXMLElement::__construct(): <!DOCTYPE HTML PUBLIC "-//IETF//DTD HTML 2.0//EN"> in
/www/htdocs/w0101159/retracked.net/wp-content/plugins/amazonsimpleadmin/lib/Asa/Service/Amazon/Request/Abstract.php
on line
66
Warning
: SimpleXMLElement::__construct(): ^ in
/www/htdocs/w0101159/retracked.net/wp-content/plugins/amazonsimpleadmin/lib/Asa/Service/Amazon/Request/Abstract.php
on line
66
Die TV-Serie Game of Thrones des amerikanischen Pay-TV-Senders HBO ist eine Verfilmung von George R.R. Martins Saga A Song of Ice and Fire. Die ersten beiden Staffel wurden bereits ausgestrahlt und waren äußerst erfolgreich. Gemessen aber daran, dass die Serie in der Erstausstrahlung nur dem zahlenden Publikum von HBO zugänglich war. Umso mehr verbreiteten sich die Episoden im Internet. Es gibt Millionen von Fans weltweit – nicht nur durch die erfolgreichen Bücher. Auch in Deutsch wurden die ersten beiden Staffeln bereits ausgestrahlt.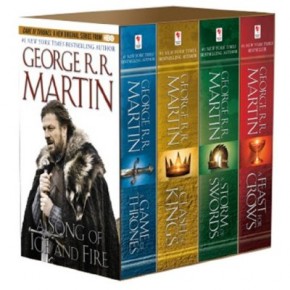 Die dritte Staffel startet am 31. März 2013 auf HBO in englisch – also nicht in absehbarer Zeit. Deshalb habe ich mich heute etwas umgeschaut, wie man sich die Wartezeit verkürzen könnte. Ich habe inzwischen Buch drei auf englisch fertig gelesen und spare mir das vierte wahrscheinlich für den Sommer auf. Über die Bücher hatte ich bereits berichtet, die Kindle-Ausgabe der ersten vier Bücher mit 3700 Seiten Lesespaß ist mit unter 16 Euro recht preiswert.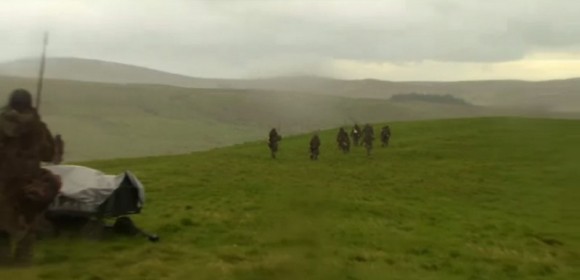 Wer die ersten beiden Staffeln noch nicht gesehen hat, wird jetzt vielleicht genauso enttäuscht sein wie ich. Während es die erste Staffel auf DVD und Blu-ray bereits länger zu kaufen gibt, soll die zweite Staffel erst am 4. März  auf englisch und am 5. April 2013 auf deutsch erhältlich sein.
Ich verstehe immer noch nicht, wieso die Filmindustrie sich so lange Zeit lässt Filme in den Laden zu bringen. Naja, immerhin noch rechtzeitig vor dem Start der dritten Staffel – sowohl in englisch, als auch deutsch. Der deutsche Start ist wie üblich später.
Bis Anfang März bleiben also nur die erste Staffel auf DVD und Blu-ray oder die Bücher. Auf der deutschen Blu-ray ist immerhin auch die englische Tonspur drauf – bei der DVD konnte ich es nicht in Erfahrung bringen.
Wer so fleißig war und bis hier her gelesen hat, verdient sich folgendes: Eine zweiminütige Vorschau auf Staffel 3, online gestellt von HBO auf Youtube. Das macht Lust auf mehr!
Hinterlasse einen Kommentar für Jochen
Für regelmäßige Kommentatoren gibt es ab dem 3. Kommentar doFollow-Links. Aber verwendet keine Keywords im Namen, sonst werden sie entfernt.